Thursday, July 19th-New Zealand & French Wines!
Friday, July 20th-Spanish & California Wines!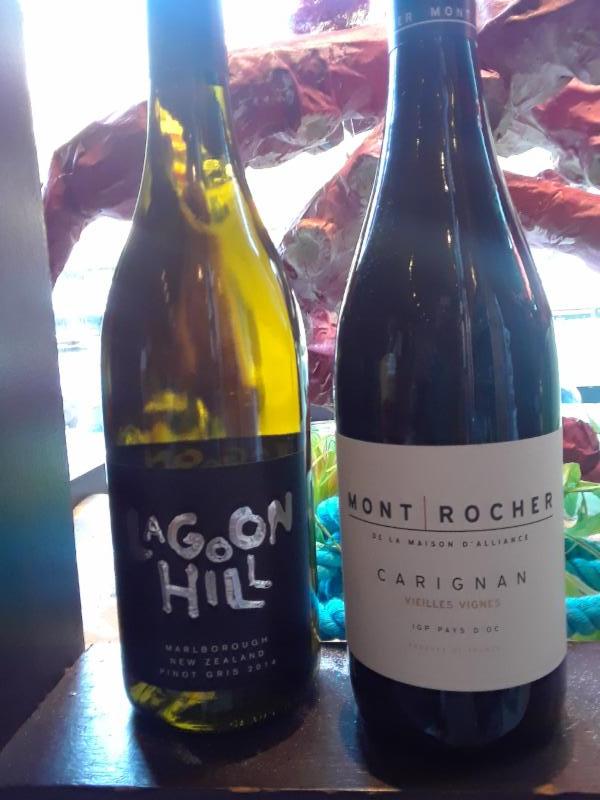 This Thursday We Welcome
Emily From Wine Dogs
Pouring Wines From New Zealand & France
6-8PM
Lagoon Hill Pinot Gris 2014
$16.99
Sauvignon Blanc rules in New Zealand but Pinot Gris is on the rise. It's gone from 130 hectares in 2000 to 2,480 hectares in 2017 and is now the third most planted white grape in the region. Lagoon Hill is one of the wineries working with the varietal, producing a bottle which

exhibits

the expressive qualities of the grape. Their Pinot Gris is de-stemmed then fermented in stainless steel helping retain the fruit aromatics. It's slightly off-dry displays notes of peach and pear with acidity adding a lively freshness.
Mont Rocher Carignan 2016
$12.99
Carignan is a grape grown primarily in Southern France. The grape produces high yields yet it is also a challenging to grow and is considered by some winemakers
to be a low-quality grape. Because of this, it's chiefly been used as a blending grape. But there are producers who see the potential of the grape. They've been reviving old vines and making wonderful single varietal versions. The Mont Rocher is juicy with a soft yet full flavored palate of red fruit, pepper and earth. If you're looking for a wine that's fuller than a Merlot yet not as tannic as a Cabernet, this is your bottle.
A 10% discount applies to these wines when purchased during the tasting.
This Friday We Welcome
Carlos From Wilson Daniels
Pouring Wines From Spain & California
6-8PM
Whitehall Lane Sauvignon Blanc 2016
$22.99
Whitehall Lane is a small family owned winery located in the Rutherford appellation of Napa Valley. The winery was founded in 1979 and since that time they have been built a reputation for high quality wine. This includes recently receiving Winery of the Year honors from Wine and Spirits magazine. Their Sauvignon Blanc is proof the acclaim is well deserved. 70% of the grapes were fermented in stainless steel and 30% in new French Oak giving weight and body while still allowing the fruit to shine. The inclusion of Semilion brings added texture. Lush, fresh and juicy, this is a wonderfully refreshing Sauvignon Blanc.
Bodegas Avancia Godello Cuvee De O 2016
$16.99
Godello is a grape you probably haven't heard of but after this tasting, may become one of your favorite grapes. Native to Spain, the grape was close to extinction but in recent years winemaker began to embrace the varietal. One of those winemakers is Jorge Ordóñez. His Godello from Bodegas Avancia is an excellent entry level bottle and a solid example of the grapes virtues. It's savory and mineral driven with generous fruit and a smooth, long finish
Bodegas Muga Rioja Rosado 2017
$16.99
France tends to be the go-to region for Rosé but every region now produces worthy, and value driven, versions of this go-to summer sipper. This Rosado from Spain is made primarily of Garnacha with the addition of small amounts of Viura (one of the grapes used in Cava) and Tempranillo. It's dry and full revealing cherry and a crisp acidity. Moreover, this is a Rosé that's serious enough to pair with food.
A 10% discount applies to these wines when purchased during the tasting.
Current Wine News:
Wanting to take a summer U.S. wine getaway but don't have time get to Napa? Finger Lakes, in upstate New York, offers excellent wines and beautiful scenery minus the overabundant crowds
Think outside the bottle.
Obscure and indigenous grapes are are no longer just for sommeliers and
wine geeks.
Riesling still rules in Germany but much has much has changed over the last 25 years.
A behind the scenes look at at the airline wine world.
Featured Spirits!
Located in adventurous Park City Utah, a 19th century mining town, some 40 minuets from Salt Lake City is the High West Distillery, producers of craft spirits with quality ingredients and a personal touch. As I write this short piece I am enjoying a dram of their American Prairie™ Bourbon, one of their core products. High West uses sourced whiskeys, and their own distillation is in a traditional copper pot still.
A relatively young distillery, founded in 2006 by David and Jane Perkins, High West has the distinction of being the first legal distillery in Utah since 1870. Their choice of location and name (High West) was deliberate and focused because of their dedication to preserving and promoting the American West.
Here at Windsor Wine Merchants we carry several of High West's products which have received numerous accolades and awards. We have 2 of their core spirits: American Prairie™ Bourbon and Double Rye. From High West's limited edition collection we have Bourye, a unique blend of bourbon and rye whiskeys, and Yippee Ki-Yay a blend of straight rye whiskeys. Here is a short description of each of the spirits.
American Prairie™ Bourbon
$32.99
American Prairie™ Bourbon is a complex blend of straight bourbons producing an aromatic whiskey that helps preserve the West. High West donates 10% of its after-tax profits to the American Prairie Reserve. This is an award winning, s
traight Bourbon Whiskey:75% corn, 21% rye, 4% barley malt and other components that are a secret. We get a scent of caramel and sweet vanilla, a taste that is rich and earthy with well balanced flavors of candy corn, honey nougat and sweet corn bread biscuits and a finish of vanilla, with a hint of caramel. A truly delightful experience.
Double Rye
$32.99
Double Rye, "the Spiciest Rye Whiskey in the World!" in High West's own words. The name is basically from the fact that this is a combination of two different rye whiskeys. One young, at 2 years old combined with a 7 year old more mature rye. The finished product is a combination that not only is a fine mixing whiskey but a whiskey that stands on its own as a sipper. Double Rye gives us tastes of Rye spices up front, then menthol, mint, eucalyptus, herbal tea with wildflower honey and all spice, and a finish of cinnamon and mint, gradually sweetening through the finish, with a hint of anise.
Bourye
$76.99
Bourye, our first selection from High West's limited edition collection is a unique and premium blend of rich bourbon and rye whiskeys, making for a premier sipping whiskey and one of the distiller's all-time favorites. I have inquired as to the ration of bourbon and rye, to no avail because the ratio is a tightly held secret. The blend is straight bourbon and rye whiskeys aged a minimum of 10 years, in new charred white American oak barrels. We get a long & rich finish with flavors of , roasted pecan, molasses, leather. A truly unique experience.
Yippee Ki-Yay
$80.99
Lastly we have Yippee Ki-Yay which came about because one day, just for fun, the distillers put some rye whiskey into barrels originally used to age wine. When they mixed the 'vermouth-ed' and the 'syrah-ed' they discovered an all-natural, not disgustingly sweet whiskey for the rest of us. As the distiller's tasted their fun experiment, there was only one expression that emphasized what was happening in their mouths " Yippee Ki-Yay!!!" A real expression of joy popular with cowboys in the 19th century Western United States. A blend of sourced straight rye whiskeys aged from 2 to 16 years, Aged in new, charred, white American oak barrels and finished in French oak barrels that previously contained vermouth and Syrah wine. We get a delightful finish of spiced red berry jam, black licorice, and muddled spearmint. A limited edition.
We read a lot of wine articles around here. If you'd like to see what we've been reading lately, check out my "Flipboard" Magazine!
"Wine" Flipboard Magazine.
© 2014 Windsor Wine and
Spirits, Inc.