-This Week's Tastings-
Thurs, March 22nd-Italian & Domestic Wines!
Fri, March 23rd-Italian & Argentina Wines!
Sat, March 24th-International Spirits!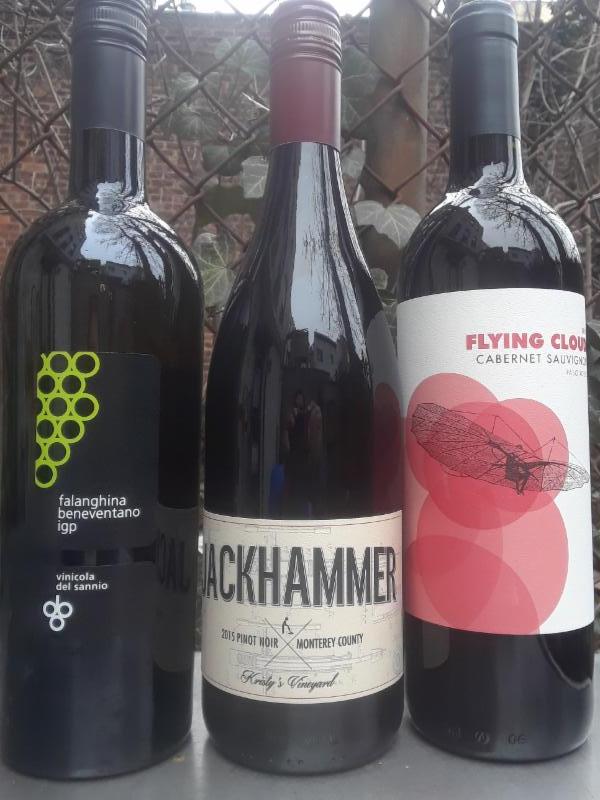 This Thursday We Welcome
Sarah From Peter Warren
Pouring Wines From Italy & California
6-8PM
Vinicola Del Sannio Falanghina 2016
$12.99
Italy produces a large amount of wine from indigenous grapes, many which remain under-the-radar with most drinkers but one grape that's beginning to step out of the shadows is Falanghina. The grape is found almost exclusively in Campania in southern Italy. Despite being one of the oldest grape varieties in Italy, it never really produced wines of note so it didn't receive much attention. In the 1990's, stainless steel fermentation was introduced to the grape which brought out the fragrant aromatics and the potential of the grape began to be recognized. With it's notes of fruit and citrus, the
Vinicola Del Sannio Falanghina is crisp and refreshing with a full flavored mouthfeel. Come discover the wonders of Falanghina!
Jackhammer Pinot Noir 2015
$17.99
Jackhammer is a partnership between owner Sandy Garber and winemaker Stephen Dooley. The long time friends hatched the idea for the winery in 2011 while sitting together drinking central coast Pinot Noir. It occurred to them that there were not many options for good, inexpensive Pinot that actually tasted like Pinot. Thus Jackhammer was born and this bottle is proof they succeeded in their goal. With flavors of cherry, plum and herbal notes, this bright, fresh and juicy Pinot Noir is easy to drink and has a texture and character that makes it stand above other Pinot's at this price point.
Flying Cloud Cabernet Sauvignon 2015
$19.99
Before starting Jackhammer, Stephen Dooley was founder, owner and winemaker at Stephen Ross winery. The winery is known for excellent, low production Pinot Noir but seeing a need for well made, high quality wines from other varietals led Dooley to create Flying Cloud. This Cabernet from Paso Robles has intense flavors of blackberry, black pepper and a solid tannic structure. Just as he did with the Jackhammer Pinot, Dooley delivers a Cabernet that over-delivers for the price.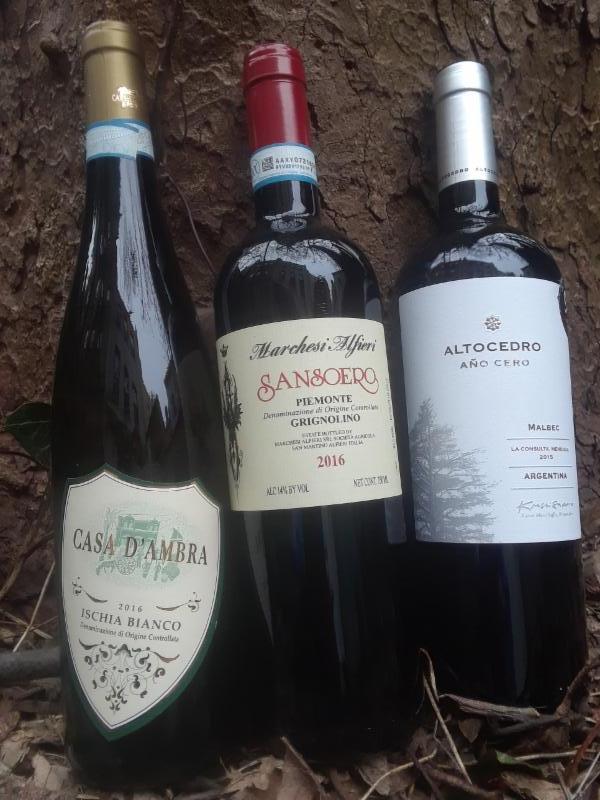 This Friday We Welcome
Diana From Omni Wines
Pouring Wines From Italy & Argentina
6-8PM
Casa D'Ambra Ischia Bianco 2013
$17.99
One of our favorite things is discovering, and sharing with our customers, wines from grapes or regions they may not be familiar with. This bottle covers both bases. Produced in Ischia, a volcanic island located in the Gulf of Naples, the grapes for this wine are the indigenous Biancolella and Forastera. These names may not sound familiar but what's inside the bottle is a wine with a true sense of place. A beautiful wine with a perfect balance of fruit, citrus, salinity and minerality. A great anytime bottle but an especially good match with shellfish.
Marchesi Alfieri Grignolino Sansoero
$16.99
Grignolino is a red wine grape from the Monferrato hills of Piedmont and it's a grape not often seen outside the region. Wines from the varietal may stand in shadow of Piedmont grapes Nebbiolo, Dolcetto and Barbera but if you're looking for a pleasurable everyday wine, this bottle is hard to beat. The Sansoero from Marchesi Alfieri is fermented and aged in stainless steel. It has aromas of roses and violets and a palate of strawberries with acidity and light tannin adding structure. Enjoy this with a bowl of pasta!
Altocedro, Malbec Ano Cero 2015
$20.99
Malbec is Argentina's most exported wine to the U.S. and while that's good news for fans of the varietal, the reputation of the grape was left slightly tarnished after the market became flooded with good but uninspiring bottles. But there is top-notch Malbec to be found and Altocedro is one of the producers that proves a high quality/value Malbec can still be found. The vineyards are located in the premier village of La Consulta, Valle de Uco. Winemaker, Karim Mussi Saffie uses sustainable practices to produce limited amounts of his terroir-driven wines. His Ano Cero Malbec is juicy, rich and savory. Pair this with lean meats as well as blue and pungent cheeses.
This Saturday We Welcome
Scott From Mesh & Bone
Pouring Unique Spirits From Around The Globe
6-8PM


Mesh and Bone is the brainchild of Scott Crist. Having spent about 20 years working and traveling abroad, Crist ate and drank like the locals. Realizing most people were unfamiliar with these wonderful and unique spirits, many which weren't even available outside their native countries, compeled Crist to start Mesh & Bone. We are exited to share these singular spirits with our customers.
Shochu 750
$29.99
Shochu is a Japanese vodka-like spirit distilled from barley which in Japan is more popular than sake. It's a neutral spirit that can be enjoyed on the rocks or with some fresh fruit. If you're a fan of vodka, this will be a pleasing alternative
.
Sotol 750
$42.99
The Sotol plant grows in the high altitude of Chihuahua, Mexico. Sotol is also the name of this spirit and with the exception of Chihuahua, is largely unknown, even in its home country of Mexico. One plant, which produces one bottle, takes 15 years to mature. The palate shows lots of vegetable notes and ends with a smooth finish. In Crist's words, "It's like tasting the desert after it rains".
Arakku 750
$38.99
Have you ever had a spirit from Sri Lanka? We didn't think so. Arakku is distilled from the fermented sap of coconut flower and is aged for 15 years.To understand Arakku, Crist spent time with the local farmers who cut and tap the coconut flowers. Adding to the challenge was the fact that the farmers spoke no English. Mesh & Bone is currently the only Arakku available in America. The spirit can best described as a cross of whiskey and rum, It has a spicy, sweet taste and works as a mixer or served on the rocks.
Current Wine News
Two physicists suggest the best method for chilling wine
Tips from a sommelier on how to have a better restaurant wine experience

.
Artificial Intelligence Is Changing The Wine World
Technology has already changed how we make wine, so what effect will it have on how we drink it?
The Johnnie Walker Black Label is easily one of the most instantly recognizable labels in the world of whisky. For over a century this iconic blend is recognized as the benchmark for all other deluxe blends. Johnnie Walker Black is created using only Scotch whiskies aged for a minimum of 12 years from the four corners of Scotland. This tradition has historically given the Black Label it's unmistakably smooth, deep, complex character.
In all this time Johnnie Walker has celebrated taking steps forward with their message of "Keep Walking" and their Striding Man icon. However, traditions are meant to be challenged, and at times challenged traditions change. Such a happening is occurring in 2018 with the Striding Man icon.
This year, the Jane Walker icon will debut on a special edition of the Black Label blend. As stated on the Johnnie Walker website:
"In recognition of women who lead the way, we are unveiling Jane Walker, the first-ever female iteration of the brand's iconic Striding Man logo, in celebration of the many achievements of women. As a brand that has stood for progress for nearly 200 years, Johnnie Walker is proud to take this next step forward by introducing Jane Walker as another symbol of the brand's commitment to progress.
For every Jane Walker Edition bottle produced, Johnnie Walker will donate $1 to organizations supporting women's progress, up to $250,000."
We here at Windsor Wine Merchants have received our allotment of this historic Special Edition of the Jane Black Label. We along with Johnnie Walker proudly shout:
WITH EVERY STEP, WE ALL MOVE FORWARD
Tasting Notes:
Vital Stats: 40% ABV (80 Proof), 12 year age statement, blended Scotch whisky.
Appearance: Caramel, burnt sugars, medium legs.
Nose: Charred oak, peat smoke, toffee candy, pecan rolls, over-ripened grapes.
Palate: Vanilla, butterscotch candy, peat smoke, glazed pecans.
Finish: Good amount of smoke without being overpowering, Medium burn, tapering towards the end to some nice nutty and sweet notes mingling with the lingering peat.
Price: $49.99 (750ml bottle)
We read a lot of wine articles around here. If you'd like to see what we've been reading lately, check out my "Flipboard" Magazine!
"Wine" Flipboard Magazine.
© 2014 Windsor Wine and
Spirits, Inc.